In many ways, cloud accounting is similar to traditional accounting software. At the most basic level, remote servers host cloud accounting data, whereas traditional accounting software stores data in-house.
There are multiple benefits to this method of accounting software. This includes greater flexibility and accuracy, allowing your organisation to focus on more important operations. Furthermore, it is often equally, if not more, secure than traditional accounting software.
In this short guide, BDI provides an overview of the key elements of cloud accounting software, as well as how it can benefit your business.
Join the BDI mailing list
Keep up to date with the latest events, webinars, and product launches from BDI.
Sign Up
Unlike traditional, in-house software, cloud accounting solutions send data to the cloud. Data is then processed before being returned to the user.
In terms of security, cloud providers usually have backup servers in multiple locations. This means that, should the network go down, users can still access data without interruption.
Through using cloud solutions, you can:
How secure is cloud accounting?
Despite some scepticism over the safety and security of using the cloud, the internet elements add extra security to your data.
Due to remote storage, company computers have no digital trace of financial data. This creates more security, as stolen devices do not hold sensitive financial data.
Furthermore, data encryption and password-protection provides extra security.
Users can access cloud accounting software through the Internet via a cloud application service provider. This information can also be shared between users. Both users need access to the appropriate level of security within the same system, and their own password. In many ways, this is more secure than using flash drives, which have the potential to be lost.
Benefits of cloud accounting
There are a variety of benefits to cloud accounting over traditional, in-house accounting.
To summarise, cloud accounting offers a more flexible and scalable solution to organisations. Hosting cloud solutions on remote servers reduces maintenance time for your organisation's IT team.
Cloud accounting does not compromise on safety and security for organisations, being equally (if not more) secure to traditional accounting software.
If you are interested in how this method of accounting can benefit your organisation, then please get in contact with one of our business experts. We would welcome the opportunity to consult your business needs and explore how our software can meet your business goals.
Sysynkt, as a cloud XFMS solutions, offers all of these benefits to users. BDI is now in partnership with Sysynkt, and can help introduce this system to your organisation. To learn more about how Sysynkt can help your organisation, please contact one of our business experts.
Alternatively, please join BDI at one of our free webinars and learn more about how you can introduce a comprehensive cloud accounting solution to your organisation. Fully FCA approved and MTD approved by HMRC, Sysynkt provides a simple solution for controlling your organisation's finances from within one centralised location. Sold on an SaaS basis with unlimited user licences, Sysynkt removes the traditional financial barriers to access. Join BDI for our webinar, and see how Sysynkt can support your organisation.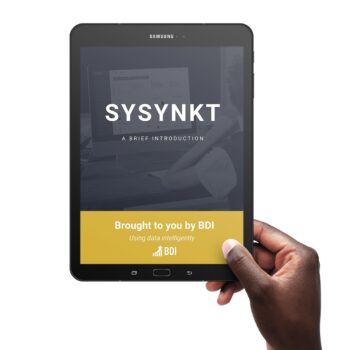 Download your free eBook: Sysynkt - A Brief Introduction
Find out more about Sysynkt's features and learn how you can revolutionise your BI strategy with an FMS today.
Ready to start?
Our team of data intelligence experts are ready and waiting to work with your organisation