Implementing an eProcurement solution within your organisation offers a range of benefits, including helping to save money. eProcurement (or electronic procurement) is the purchase and sale of supplies, equipment, works, etc., through a web interface or similar networked system. Speedy and efficient procurement practices occur through centralised and automated interactions between your business and value chain partners.
By automating and centralising procurement tasks, teams are free to work on more valuable tasks as a result. This is one of the key ways that eProcurement solutions save money for a business.
Read on to learn more about how your organisation can benefit from implementing an eProcurement software solution.
Join the BDI mailing list
Keep up to date with the latest events, webinars, and product launches from BDI.
Sign Up
Implement an eProcurement solution
If your organization hasn't already invested in an eProcurement solution, then now is a good time to do so. Without a strong eProcurement solution, it is impossible to implement processes and measures which will save your organization money as a result.
eProcurement software centralises and automates interactions between a business, its consumers, and other supply chain stakeholders. For example, eProcurement solutions improve the efficiency and speed of procurement and spend management practices.
There are various eProcurement tools and solutions available. At BDI, we're proudly partnered with Sysynkt, an innovative cloud FMS software. Mobile optimised and device-agnostic, Sysynkt sits above your existing ERP and provides multiple modules within a simple and easy-to-use platform. Easily manage expenses, purchase orders, and invoices from one user-friendly interface.
Eliminate maverick spending
Maverick spending is one of the biggest challenges within procurement processes. The term describes purchases that the appropriate budget holder or central procurement teams have not approved.
In order to eliminate maverick spending, your finance team must first conduct a thorough spend analysis. This identifies the main reasons behind employees spending without approval, as well as helping inform a plan to tackle underlying issues.
Most businesses choose to manage expenditure at the point of demand, meaning the point of purchasing. Managing this step is simplified by implementing a P2P (Procure-to-Pay, or eProcurement) system. This enables you to create approval structures, workflows, and assign user permissions. Purchase requisitions are therefore reviewed before an order is placed.
Approval structures are simplified via Sysynkt, as the software allows users to create graphics and flow charts of the approval processes. With Sysynkt, there is no confusion about who needs to approve what purchases.
Automate your electronic invoices
Manual invoice management can create major problems for supply chains and teams. No matter the size of a procurement team, invoices can be a headache to handle.
The issues typically reside around the time required to process invoices, and the lack of consistency when comparing supplier responses.
Google AI technology handles invoice processing within Sysynkt. The software automatically polls your email inbox at regular intervals to check for any invoice documents. If found, Sysynkt then reads and parses the document to extract key information to match it against existing purchase orders within the software. The invoice processing operation is therefore streamlined, allowing users to focus on other tasks.
Poor relationships with your vendors can undermine the reputation of your organisation. In extreme cases, it can even impact the speed at which your business receives goods.
Successful supplier management, therefore, involves more than just positive social interactions between buyers and vendors.
Creating solid professional relationships with your vendors can deliver mutual benefits. It can help you to align supplier objectives with your own business objectives, increase the likelihood of cost savings from your supply chain, and therefore enable you to negotiate better contract terms with vendors.
The key to good supplier management is to identify suppliers that are the most important to your organisation. This can be a time-consuming and resource-draining process without the right tools.
Streamlined supplier management portals are one of the benefits of using Sysynkt. Through having a centralised location to store supplier information, everyone within your organisation is on the same page about supplier relationships.
Using an eProcurement solution opens up the opportunity for greater cost savings within an organisation. By introducing comprehensive solutions such as Sysynkt, your business will benefit from streamlined processes and enhanced cost savings.
Sysynkt is an affordable solution for any size of organisation, with unlimited user licences for modules and transaction-based pricing. With Sysynkt, your organisation will only pay for the services and the transactions you need. Sysynkt is also device and ERP agnostic. Easily connect your existing ERP solution from any internet-connected device – all without losing functionality.
If you are interested in what Sysynkt can do for your organisation, we have a range of resources available. Our previous webinars have been recorded and are available on-demand. We also have a mini brochure eBook that explores Sysynkt's key features.
Our team of business experts are also available to meet virtually and in person to discuss your needs and provide more information about the software. Let's bring Sun to the cloud today.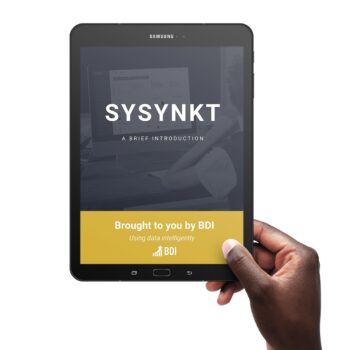 Download your free eBook: Sysynkt - A Brief Introduction
Find out more about Sysynkt's features and learn how you can revolutionise your BI strategy today.
Ready to start?
Our team of data intelligence experts are ready and waiting to work with your organisation