As the pace of the business world increases every day, organisations increasingly turn towards Financial Management Systems (FMS) for assistance.
Proper financial accounting processes ensure the smooth movement of money both in and out of a business. This ensures maximum profits as well as keeping the organization afloat.
FMS provides enhanced visibility into an organisation's financial performance and status. This creates increased control over all financial matters, delivering tangible value to the organisation as a whole.
Read on to learn more about what an FMS does and how it can benefit your business.
Join the BDI mailing list
Keep up to date with the latest events, webinars, and product launches from BDI.
Sign Up
In the simplest of terms, FMS is software businesses use for integrating and consolidating all financial operations, processes, data, and procedures. A centralised system stores this information.
The most basic common feature across FMS software is cash flow management. However, modern FMS solutions have developed to involve more than this, evolving into mission-critical systems.
These FMS options connect with other organisational systems, spanning across all business departments to provide a centralised view of financial information in real-time. This therefore increases financial visibility, spend control, and business agility; decision-makers have the right information at the right time, and can therefore respond appropriately. As a result, robust decisions are made quickly for maximum profit and long-term sustainability.
An example of this is Sysynkt. Sysynkt can connect with HubSpot and SalesForce to provide an overview of budget spend across a variety of departments. Users can easily code their expense claims against this data as a result, allowing key stakeholders to respond quickly to maverick spending and confidently manage budgets.
BDI is running a series of webinars focusing on specific features within Sysynkt. If you are interested in how your organisation can benefit from introducing a true cloud-based and affordable FMS solution to your operations, we would recommend attending one of these webinars and learning more about how maverick spending can be controlled in practice.
Correct information for all users
Financial Management Systems amalgamate financial information from across the business, encompassing nominal ledgers, payable and receivable ledgers, consolidations and debt management to name a few. As a result, all information is correct for all users, as the real-time element means there is no risk of an outdated document circulating with incorrect information.
All of this information is presented in accessible, easy-to-understand reports.
Compliance is ensured across multiple local regulations through data centralisation. Furthermore, a modern FMS solution is often capable of handling multi-currency transactions and determining tax obligations. This therefore further supports compliance.
An FMS solution, therefore, provides an important competitive advantage for any business.
How can an FMS support my business?
The best FMS solutions accelerate, enhance, and streamline the entire finance function. They provide instant access to all financial information, facilitating fast, effective financial management and decision-making.
As all this information is held in a centralised system, maintaining departmental-specific solutions and systems is no longer required. Gone is the need for manually consolidating information from across the business; this creates a faster and less error-prone process for teams.
Increased automation is one of the key drivers behind increased accuracy through an FMS, and one of the major benefits of investing money in a robust solution.
Reporting and data transparency
FMS reporting capabilities make a substantial difference to business operations. Businesses can tailor reports to meet their specific needs, generating accessible reports featuring real-time information and insight from across the business.
These reports typically include drill-down functionality, allowing deep interrogation of data.
The ability to forecast potential scenarios based on precise financial information also creates increased forecasting and planning accuracy. Businesses are therefore better able to predict and manage growth, as well as seizing any growth opportunities.
FMS transparency is another major bonus for businesses. Information consolidation within a single system creates easier processes for tracing data across an organisation and beyond. Furthermore, reductions in system complexity create a streamlined and more manageable business.
Regulatory compliance is another key benefit of using FMS, as the best systems can cope with regulatory requirements across territories and industries at a click of a button.
The potential for cloud capability in FMS solutions
Good Financial Management Systems are flexible and scalable, two features that make a system valuable for a business.
Legacy systems need effort, time, and money to maintain, and they are often only as good as the staff working on them. These systems are also often too rigid to grow alongside a business as it evolves.
Flexible and scalable modern solutions instead nurture growth, allowing them to adapt as your organisation does. Cloud-based solutions increase this flexibility further. Rather than taking time away from your organisation's IT team, software vendors are responsible instead for upgrades and patches. Your in-house team are therefore free to focus on adding real value to your organisation.
Businesses must do their utmost to keep a competitive edge against the new disruptive forces which appear regularly. With the right FMS, businesses can align financial processes to be best practice across the business. FMS solutions create strong financial and operational foundations, allowing your organisation to focus on the ever-increasing demands of your industry.
Sysynkt is a strong and innovative FMS solution, offering a true cloud-based experience built from the ground up. Rather than being backwards-engineered to support modern functions such as open banking and Google AI, Sysynkt was designed from the beginning to optimise these capabilities.
If you are interested in Sysynkt and how it can help your organisation, an on-demand demo is available on our YouTube channel, as well as a free eBook available below. Alternatively, please send an email to one of our business experts via info@bidataintel.com. We would welcome the opportunity to discuss your business needs further.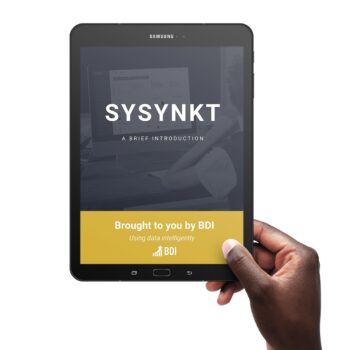 Download your free eBook: Sysynkt - A Brief Introduction
Find out more about Sysynkt's features and learn how you can revolutionise your BI strategy today.
Ready to start?
Our team of data intelligence experts are ready and waiting to work with your organisation